TAConf
Copyright (c) 2002-2009 by Tom Grandgent -

---
Introduction
TAConf is a voice and video conferencing program that runs on Windows. It offers a unique balance of size, efficiency, flexibility, and ease of use.
Features
Audio

High quality - 16kHz 16-bit audio using the Speex audio codec - roughly twice as good as a regular telephone. Also uses a very good noise filter.
Low bandwidth - uses variable bit rate with a peak of 30kbps by default, can do 15kbps peak without sounding too bad
Low latency - total audio latency, taking all factors into account, can be under 200ms over the Internet
Adaptive buffering - attempts to strike the best balance between low latency and low # of audio dropouts

Video

High quality - good-looking 320x240 at 20-30 frames per second can be achieved on a slow broadband connection (128kbps)
Low bandwidth - capable of high quality video even with a 128kbps upstream cap, and decent video over dialup
Compatibility - supports DirectShow-compatible capture devices and Video for Windows codecs
Efficient display - video can be sized to any size you want, including full screen, without incurring a performance penalty

General

Multi-point - connect to as many people as you have bandwidth for (supported for both audio and video)
Lightweight - consists of only one ~250KB EXE file
Non-intrusive - coexists peacefully with games running, minimizes to system tray, doesn't pop up windows that steal focus
Easy to use - directory service for connecting by name, auto-update feature
Configurable - many options are adjustable, unlike most programs of this type
Doesn't keep you in the dark - lots of information is displayed so you can tell what's going on
---
Requirements
Audio

Windows 2000, XP, Vista, or Windows 7
400MHz or higher CPU
Audio input device, such as a headset or microphone
Audio output device, such as a headset, headphones, or speakers (headset strongly recommended)
Network connection (28.8 dialup modem or better) without other programs or users using too much bandwidth!

Video (optional)

400MHz CPU ok for receiving, 900MHz or higher CPU recommended for sending
DirectShow / WDM-compatible video capture device - the following devices have been tested successfully:

USB webcam
DV cam connected via IEEE1394 (FireWire)
Video card with video input and attached composite camera
TV tuner card with video input and attached composite camera
Digital camera connected via USB (DirectShow / WDM support required - this is extremely rare!)

A good Video for Windows based video codec - TAConf currently uses Windows Media Video 9 by default and will automatically install it if necessary. Advanced users can experiment with other codecs. For example, I wrote some (now outdated) instructions about how to use XviD.
Broadband network connection with at least 128kbps upstream recommended (test your speed here)
---
Status
TAConf has been stable for many years now, with regular use by a small but active group of users. Updates are rare. However, it's still not open to the general public and may never be. There are two critical problems that can make the program difficult to use in some situations:

To receive incoming calls, you must have the necessary port mapped correctly on your router/firewall. Unfortunately, this has proved to be a burden even for advanced users.
TAConf's echo cancellation is very blunt. It's effective in preventing audio feedback, but it causes audio to be cut off sometimes unless people are careful about how they speak. This problem only affects people who 1) refuse to use a headset/headphones, or 2) have a poor quality headset or sound system with internal feedback problems.

These are long-standing problems without simple solutions (that I know of). I would like to solve them, but currently TAConf works well enough as-is for my needs. Maybe someday I will solve them, but I'm reluctant to open it up to the general public until that happens. If you don't have TAConf and are interested in trying it despite the problems described above, contact me and I'll send you a link to download it.
---
Screenshots
Here are a few interesting screenshots taken over the years:

A typical four-way video call. Despite being thousands of miles away from each other, everyone can see and hear each other as if they were together in the same room. This is why I wrote TAConf.

Some minimized TAConf video windows as shown by the Aero Peek feature of Windows 7 beta. I was impressed to see this work so well out of the box without any special support from me. The video is shown live in these preview windows at full framerate without any extra CPU burden.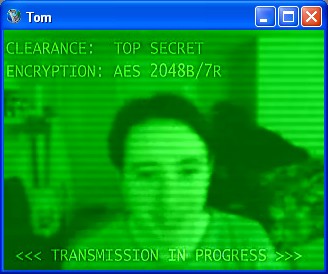 No, there wasn't really any encryption going on. This was just me playing around with some video post-processing effects made possible by TAConf's integration with ffdshow.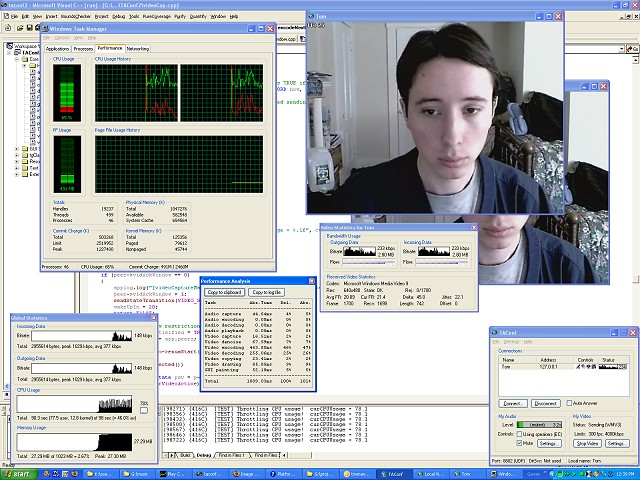 I was doing some testing of the CPU usage throttling feature in this screenshot. Encoding live video at 640x480 at 30 frames per second takes a lot of CPU power - more than an older CPU can handle. TAConf can limit its CPU usage to a specified percentage so that the computer remains responsive under heavy load.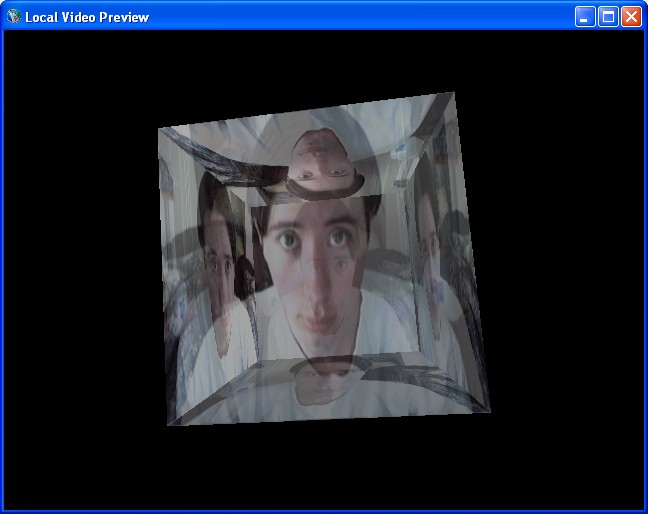 TAConf was once capable of displaying video on a rotating 3D cube using Direct3D. I took the 3D code from another program of mine just to experiment with it in TAConf. Ultimately this was useless so I got rid of it, but it was still fun to experiment with.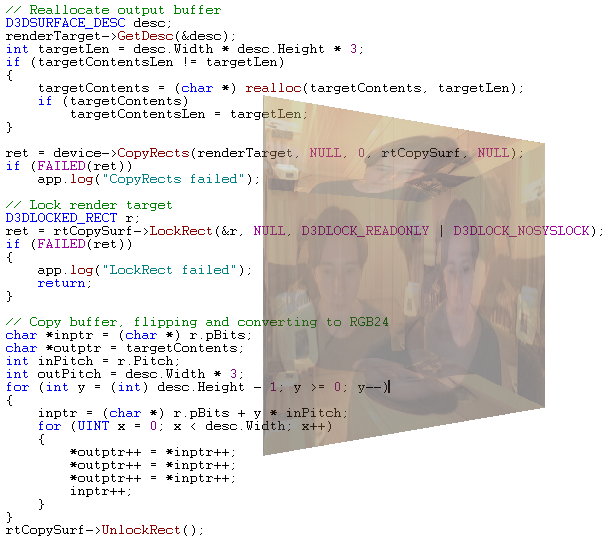 The window border and big black background didn't look that appealing. How about displaying the cube seamlessly over other windows with some nice translucency?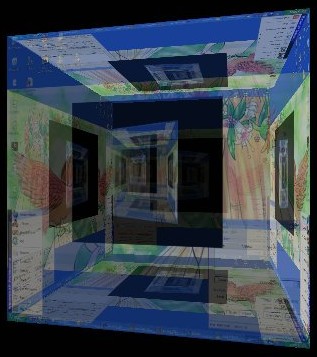 In addition to capturing video from a camera, TAConf lets you capture the contents of your display. If you display the resulting video inside the same area you're capturing from, you get some interesting video feedback. It's too bad I only have a screenshot of this, as it looked even better in motion with the cubes rotating.